Today I'm linking up with: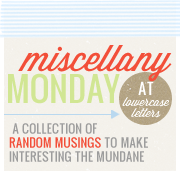 This morning is pretty random y'all. It's been one of those mornings that has been constantly interrupted from about 5am when Emma climbed into bed and started talking to me. She fell back asleep, for which I'm
very
thankful but I feel like I'm starting this morning with only half a brain... not great for a Monday morning!
Today is the first day of my
summer mini-session photography classes online
. If you want to sign up today is the LAST day I'll be accepting registration for the June session. This month's session we'll be going over basic concepts to improve your photography - growing your awareness of light, composition, crop & perspective. It's a small, laid-back class with less material & assignments than my previous class.
Today is the first week of real planning I've got
my planning sheets
all printed out and waiting for my coffee to kick in and for them to be filled out! I wrote about
our routine
here, the last two weeks of our summer break
we've been sick
and I've been frustrated and the kids (who weren't sick) have been bored. I am
so
ready to get into a more intentional routine!
I don't have my entire menu planned out for this week yet, but I know for sure one day this week I'll be trying out the
Mexican Chicken and Rice Bake
from The Creative Mama it looks
so
yummy!
Last night the hubs and I watched the final episode of the first season of
Suits
. We've been watching it on demand for the last couple of weeks. We have both really enjoyed it. It's a very clever show. I can't wait for season 2 to start up on June 14th!
Speaking of TV I've been loving lately season 9 of So You Think You Can Dance has begun! I have been watching the auditions - it's not my favorite part of the show, although I do love those moments of seeing Robert working with the show, I hope he dances some during this season. He's my all-time favorite contestant. My favorite audition so far has been Bree. I found the video of it below. She is a stay at home mom of two and a really strong dancer. I was overwhelmed by how brave she is. Most of the people auditioning aren'e parents and aren't as old as she is. As a former dancer I am in love with how she is showing that you don't have to be twenty years old and a size zero to be a great dancer. I hope that she does well in the competition. Here is the video of her audition, I totally cried the first time I saw it:
Once Bree finished her audition they invited her two year old daughter to dance for a minute, she was a brilliant little dancer! Her dance is included in the clip above but in case audition videos aren't you think here is just the two year old dancing. It's
adorable
you can tell she's seen a lot of dancing.
I found this video of Bree practicing around a bunch of babies and it melts my heart. LOVE it and what Bree is doing for mothers who are generally afraid of chasing their dreams while their children are little. Afraid that they cannot be great mothers and great... fill in the blank - writers, photographers, dancers.
If you're visiting from Misc. Monday with lowercase letters - please leave a comment so I can come visit you!