At our house we are pretty big on reading. We got to the Library every week. My husband always has a couple books that he's reading on his Kindle and while I don't read as much now as I used to I have always enjoyed a good book, whether it's a board book that I'm reading to the baby (I can read Goodnight Moon & Guess How Much I Love You without even looking at the pages) a picture book that I am reading to one of my littles or reading a chapter book at nap time. I love books. During the summer after they finish first grade my kids are allowed to bring a book to bed with them, since their bed-time is usually a half hour or so before the sun goes down. It's been a great way to encourage literacy in our home.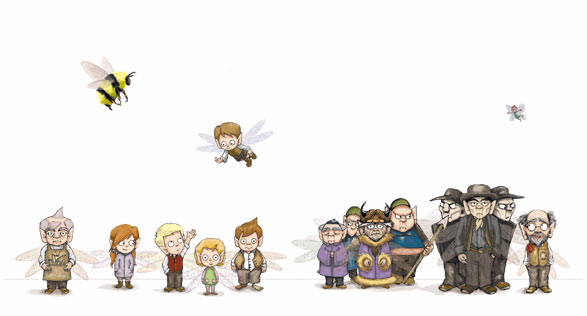 Tollins: Explosive Tales for Children
this is one I read to my four year old at nap time. Such interesting stories! I I didn't want the book to end so that I could keep reading them to my little man. So glad this is a series now. I can't wait to read the rest of them.
The Poppy Series by Avi - I so enjoyed reading these to my Little Man during Naptime. The illustrations are simply beautiful. This would also be appropriate for a 3rd grade reader.
Classic Whinnie-the-Pooh - have you read the original books? They are nothing like most of the Disney-based books. I enjoy reading them
so
much.
Super Fly Guy by Tedd Arnold - my four year old son enjoys these books very much. I enjoy pretty much anything by Tedd Arnold, his books are easy to read and his illustrations are very creative and colorful.
Books for Young Readers
Ivy & Bean - my older girls have read all of these books! This is perfect for my 1st grader.
Clementine - a little more advanced then Ivy & Bean, Emma really enjoyed this as a 1st/2nd grader.
Judy Moody - how could you not love these books? Too fun. My 2nd grader loved these.
Bad Kitty - I have a confession to make - I sat down and read this to myself yesterday. I could not put it down. I checked out "Bad Kitty Gets a Bath" from the Library for my 1st grader.
Magic Treehouse series & Tales from the Odyssey by Mary Pope Osborne - great material for your 1-3 grade independent reader. My kids enjoyed them and learned a little something along the way. The Tales from the Odyssey are for a slightly older crowd, my 4th grader really enjoyed them.
Books for 3rd Grade +
Fairies of Neverland series by
Gail Carson Levine - honestly, my kids weren't terribly into them, but I think it's more a case of catching them in the right mood and the illustrations are divine!
Spiderwick by Holly Black and Tony DiTerlizzi My 3rd grader is currently reading this series and is really enjoying it.
Series of Unfortunate Events - another 3/4th grade level series my 3rd grader is really enjoying.
Redwall Series by Brian Jaques - fun to read aloud or for your advanced 3-5th grade readers.
Chronicles of Narnia series by C.S. Lewis I read this aloud to my girls when they were little, my 4th grader is reading them to herself now. It took my 3rd grader awhile to be able to read fast enough to really get into them. My favorites in this series are Caspian & Voyage of the Dawn Treader.
The Ordinary Princess by M.M Kaye one of my favorite books as a little girl. I really need to find this for my girls. My mom read it to me in about a day.
This is Katie-Abigail "reading" to herself at nap time (about 2007)
Books for 5th Grade +
Kane Chronicles by Rick Roirdan my advanced 4th grade reader LOVED everything I could find for her by Rick Roirdan. Percy Jackson and the Olympians was a favorite, she really enjoyed the Kane Chronicles as well.
Lord of the Rings by JRR Tolkein - my Dad used to read these aloud to us in the evenings. Great Middle-School level reading.
Inkheart series -
so
much better than the movie. My oldest and I listened to these on CD at night a couple years ago. REALLY enjoyed them, the first one especially.
Alpha Centauri by Robert Siegal another favorite read when I was a girl.
The Tower of Geburah and the Archives of Anthropos series by John White LOVED reading this series when I was younger. Still think about it sometimes now.
The Black Cauldron and The Chronicles of Prydain series by Lloyd Alexander I enjoyed this series - if your kid is into knights etc. this is a good series. My kids haven't loved it as much as I did.
Princess and the Goblin series and other short stories by George MacDonald - I LOVED reading this series! The Light Princess is another favorite.
Books for Mom
Michael Phillips (I especially enjoyed the series on the Russian Revolution) this Historical Fiction series is really enjoyable. I'd recommend it for a Middle school/early high school student. I learned more from these books that I did in school! Same goes for Bodie Thane's Historical fiction (I remember enjoying the Shiloh Series).
Jan Karon - Mitford Series - My mom read these aloud to my sister and I the summer of 9th grade and I
loved
it!
The Help - just finished reading it and could not put it down!
Eat Pray Love - I read this book before it was a movie and enjoyed it a lot (though FYI - the worldview is not Christian, it's Yogi/Buddhist)
Ouch - this list is pitiful. Got any suggestions on what I could add to this list?
I had to share this oldie but goodie.
This is back from 2004, Beth is reading her favorite
Angelina Ballerina book with Daniel.
These are from around 2008: