The baby is down for a nap, I just brewed my self a fresh cup of coffee (Starbucks started selling K-cups for my Keurig and I'm simply over the moon!) and now I'm ready to start week 3 of 52 weeks of editing in elements. This week I want to show you how to make those cute rounded corners for your photos.
If you don't know how to install actions you can reference my attempt at an explanation in
last in last week's tutorial
and there are links for more thorough tutorials if you're having trouble.
a photo of my hubs, his mom and our baby Eli
Once you're installed the Coffee Shop Rounded corners for the web action, click on the action and then click "apply" to run it.
While the action is running you'll have a chance to set the dimensions for your image. If you are going to be posting these to your blog a good width is 640px
This action has now given you rounded corners and re-sized your image. It's super easy. Make sure you save this as a copy of your original - you never know when down the road you might want to print this image or have it printed on a canvas wrap and you'll want this image closer to it's original size and without the rounded corners.
Just for the fun of it I'm going to show you another way to round your corners which is definitely more complicated- this is just one way. There are probably others, and they are probably easier but this is how I do it:
Right click on your rectangle tool. This will give you a drop down list of options - choose the rounded corner rectangle.
Look up at the toolbar for the rounded rectangle tool - choose how many pixels you want to round the corners to - I used 100px for this demonstration. Make sure you do this before you use the tool - you can't edit it later. Draw your shape where you want to crop your image. If you need to adjust the crop switch to the transform tool and you can adjust it.
Right click on the background layer and click "duplicate layer"
Re-order the layers by dragging your shape layer below the duplicate of your background copy
Click on the little "eye" (which toggles the visibility of a layer) to make the background dissappear
You can use the menu to Group the layers or press Ctrl+G to group the copy of your background with the rounded rectangle shape
This is how it looks in Elements!
This is your rounded corner crop completed!
If you want to add a drop shadow click on the shape in your layers tray. Click on "style" and pick a shadow
Double-click on the effect icon (the little "fx") to edit the shadow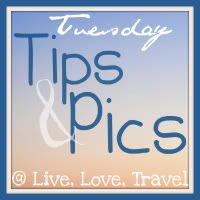 I'm linking up here
So there you go! I hope you've enjoyed this tutorial. If you have any questions please leave them in the comments and I'll do my best to answer them!! If there is something in particular you'd like to learn how to do
let me know
on my Facebook page and I'll cover it ASAP.
Pin It
I'm not providing a link-up this week since that hasn't been popular but if you like this series you are welcome to put a badge on your blog!
Do you enjoy this style of learning? I just got my first copy of CS5 and will be working on writing a class for it soon! I'll be taking you step by step through everything I've learned how to do when it comes to editing.