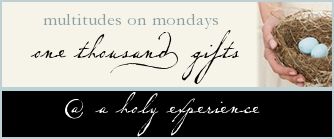 I know that this style of photography is a little different than my "usual" I had my 10x macro filter on my 18-55mm lens, I had my baby on my little guy wiggling on my hip and little man running around in the yard so the fact that these turned out even remotely is pretty much luck.


Today I am thankful for:
a
mother in-law
willing to come watch my kids with me so I can go to a women's retreat with the ladies at
my church
.
I am thankful for beautiful weather this weekend to enjoy my awesome friends. I am thankful for time to rest and for the restored peace and perspective that the weekend gave me.
I am thankful for how far this year has brought me.

The theme at Shades of Autumn this week is "Orange" I wanted to get something link one of the heirloom pumpkins at the natural foods store in town but my little man wasn't feeling so well today so we couldn't get out to the store. I found this vine growing up the back of our fence - so it will have to do!
All of the images on this page are SOOC.