originally posted here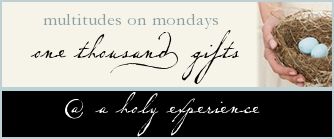 Good Monday morning! Here we are again at the start of another week - with another opportunity to choose gratitude over resentment or self-pity and to look back over the week and count my blessings...
I am thankful,
so thankful
that
Katie-Abigail's allergic reaction
wasn't worse and didn't effect her mouth or throat.
I am thankful for
the time I got to spend with Katie-Abigail this week
. While it was difficult because of how her medicine effected her mood I am already missing her today, now what she's back at school.
I am thankful to be a work-at-home solo-momtrepreneur and that I didn't have to worry about making up hours or having a frustrated boss this morning.
For a friend who brought us dinner when she heard how difficult this week had become.
For a husband who was willing to pick up dinner for me and who was a big help this week while I was at the end of my rope.
For time spent outside
in my backyard
, camera in-hand, photographing all of the beautiful things that I usually overlook.
I am thankful for my sweet, snugly, smiling baby boy.