The CoffeeShop
and the font is called
CK Becky
You can read my tutorial on
how I create my 365 collage
in Adobe Photoshop Elements
28/365
Taken for Scavenger Hunt Sunday "Beverage" challenge.
A beautiful warm day - perfect for sitting outside with a cup of hot tea and
flip flops
.
29/365
"You make beautiful things out of dust"
30/365
Taken for Project 64: Out of the Box "Robin's Egg Blue"
My favorite colors on my favorite mug! I
loved
shooting this on a poster board background,
31/365
Taken for Scavenger Hunt Sunday "Water" challenge
Baby's breath in a vase. Set up on a bar stool by my open back door.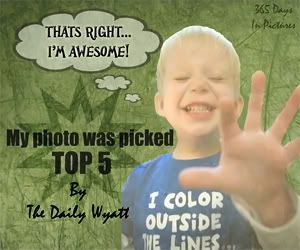 32/365
There were dozens of birds in the backyard and common are behind our house. It was really hard to get a good shot with my 55-200mm zoom lens but this one is my favorite.
33/365
The next day the birds were still there - only it was terribly rainy and gray. I was inspired by a recent photo
Ashley Sisk
posted.
Friday 34/365
I wanted to re-take my last photo of Lucky Charms (this is just a store brand version). It was
so much fun
to shoot and then process. I applied
M4H's action "Baby's Breath"
- I love it!
Saturday 35/365
My Saturday night snack. I was just happy to get a fairly decent shot that late at night!
Sunday 36/365
My Emma with
Henry
at the mall - more photos from that adventure coming soon!!