Happy Monday!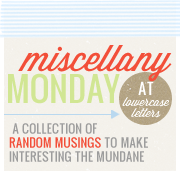 I'm linking up this week with Miscellany Monday with Carissa at lowercase letters - because she rocks, and so does her link-up.
Did you have a good weekend? We did! We took the kids to see Despicable Me at the discount theater. It was SO good!! It was VERY age appropriate for my kids (ages 3 to 8) and family friendly. I laughed SO hard!!!
While I was working on my photography class this weekend Daniel watched a few episodes of "Outsourced" on demand - I didn't get much work done. It was SO funny!
I spent a lot of the weekend just hanging out with the kiddos. FUN! Crazy and insane too.
Linking these up with
Flat Yeast Bread
as well :)
My oldest is learning to write her name in cursive. It's been fun seeing her try and learn and get better. Here is her first success!
I had a play date this week with another mom from my Bible Study. We're reading
Radical: Taking Back Your Faith from the American Dream
it was like a breath of fresh air into my soul. Relationships are so important and having someone to talk about my faith with has an amazing effect on my soul. I can't wait until next week!
One of my online friends, Emily is hosting an amazing event on her blog to raise funds to adopt their little Elsabeth from Ethiopia. Go check it out!! She has an AMAZING family, and it warms my heart to read her blog. THIS week only: $5 from all registrations for my photography classes will go to Emily Anderson's adoption fund. As I'm writing this registration has only been open for a couple of hours and already we've raised nearly $30 towards bringing Elsabeth home - sweet!
Registration for my newest SLR class is OPEN! I've had a lot of interest in this class so be sure to register soon. I will be accepting 30 participants for the November class and 50 in the January class. There will be no giveaways or advertiser discounts for the November class since it's only $20. You can learn more about my SLR classes by clicking on the Photography e-Class page. I'll also be offering gift certificates soon!! In time for Christmas. I'll be ordering some cute ones from
TinyPrints.com
hopefully within the week.