Katie-Abigail caught a toad, two actually. We named then Thyme and Tait and were very das when it was time to let them go. I enjoy taking photos of my kids and the wild things they catch. All of these images are SOOC. Expect to see edits troughout this week!
Saturday was
my brother's birthday
he would have been 18 this year. I felt so sad most of the weekend, in a fog and physically aching, like my body just remembered that it was time to be sad again.
Sunday was Josiah's third birthday. I got a few cute videos on my cell phone that I'll load soon, a few snaps on the "real" camera but nothing much. I'll take his three year old portrait tomorrow. I can't believe my "baby" is three years old already! I miss having a baby. He was really sweet about his birthday. Everything was Toy Story 3 and he kept thanking everyone, it was SO sweet.
I finally registered to go to the Women's Retreat at church. I waited until the very last minute to do it, but I'm glad I did.
I'm linking upagain this week with Carissa at lowercase letters: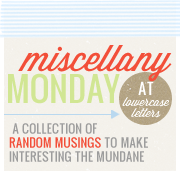 P.S. don't forget that today is the last day to
VOTE for your favorite Photo Challenge pic.