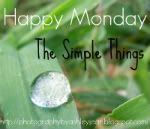 My Monday could use some happiness. It's just been one of "those" days. Staring at the computer screen trying to put the finishing touches on today's photography class tutorial with nothing but a blank stare. Plus I just spent the last hour wrestling with my internet browser trying to retrieve the email addresses of the participants so that I could get the tutorial emailed out - grrr.
But I saw over on
Ashley's blog
that there is a new photography challenge in town and I thought I'd give it a try. The theme this week is
anything
which I
love
. It's nice to not be tied down by a theme. I almost used a photo from my archive but then I remembered this photo that I wanted to take today:
Today my the color of my fingernails makes me happy - I finally got around to painting them again this weekend, and now they are a nice pretty mauve and that makes me happy!