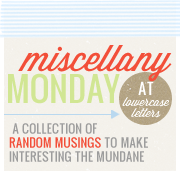 TOTAL Awesomeness

- I got over 1,000 hits on my blog this week for the first time :) whoot whoot!
Awesome
- my
birthday
! I turned 27 on Thursday and as a surprise Daniel gave me a Bamboo touch pad & pen
with
a copy of Adobe Elements 7 - yayyyy!
Amazingly Awesome
- my
birthday cake
. Josiah and I made a cookie cake with 2 Betty Crocker Chocolate Chip Cookie mix sprinkled with butterscotch and white chocolate chips baked in a 9x13 and then drizzled with melted chocolate, white chocolate & butterscotch chips - total awesomeness.
Also Awesome
-
brownie cupcakes
. Need I say more? They were
amazingly
tasty.
NOT Awesome
- I had to pick up Katie-Abigail early from school because she'd thrown up at school - all over her mat and in her hair. ick. sticky icky ick. She felt better as soon as we got home. That was weird.
Awesome
- spending Saturday at our friend's
lake house
.
NOT Awesome
- I
forgot to bring my camera
. bummer. Katie-Abigail spent most of the day on the beach collecting shells and I
so
wanted to photograph that moment.
NOT Awesome
- Josiah was up at 11 last night
throwing up
. Awesome - he didn't get much of it on the bed because he threw up all over me. NOT Awesome - getting thrown up on by your almost 3 year old. Awesome - Daniel cleaned up the mess while I cleaned up my son. Awesome - Josiah and I had a sweet moment to cuddle in the quiet of the night. NOT Awesome - Josiah woke up every two hours asking for a drink of water. Awesome - Josiah slept in a little bit! NOT Awesome - Josiah is super-cranky this morning from being awake nearly half the night. Awesome - I get to stay home with my little man. I'm so thankful to be a stay at home mom today!
Awesome
-
the Paper Mama
sent me a first draft for my new header and y'all it is going to be
amazing!!!!
She has done such a great job so far.
Awesome - This week's
"Read to Me Mommy" Monday Post
Awesome - the
photo challenge
theme this week is "Love" enter here tomorrow!
Open Sky Shop Awesomeness
- I'll be announcing the winner of my laptop case giveaway tomorrow!!
Photography Class update
: there are nearly 50 participants registered for my first ever SLR Photography class!! I will be closing registration on Saturday, September 4. It's not too late to
enter to win a free class
! (If the winner has already paid for her class I'll refund the registration fee) I'll be publishing a class schedule for the rest of the year soon! Registration will open for the October Simply Basics of Photography class on September 1 - this is a repeat of the class I offered in July. It will be held October 4-30.