The theme over at Trendy Treehouse is Children! I have LOTS of photos of my kids but it was hard to find a good one of all four of them together. If you love my photo please hop on over and leave a comment and VOTE for my photo! The Top 10 will be posted at Trendy Treehouse on Friday!
I also submitted this photo here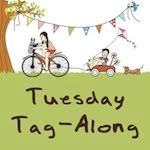 Here's a fun new link-up. Hosted by Twee Poppets! Check it out!
If this is your first time visiting my blog. Welcome! Check out my Photography Challenge - therey's a SWEET giveaway from my newest sponsor!


check this blog out!